Welcome To My Site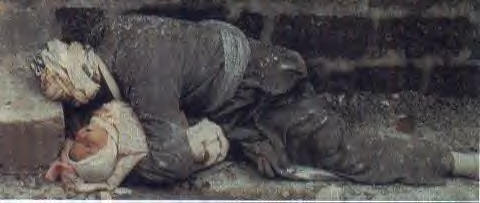 You are the <!a href="http://member.linkexchange.com/cgi-bin/fc/fastcounter-login?348431" target="_top"> <!a href="http://www.fastcounter.com/fc-join" target="_top"><!le FastCounter>
person to visit this homepage since Saturday August 30, 2003. Thanks
What happened to on the Bloody Friday
The brutal massacre of the oppressed and innocent people of Halabja began before the sunrise
of Friday, 17th of March 1988. The Iraqi regime committed its most tragic and horrible crime
against the civilian people on Friday, 17th of March, 1988. On that day, Halabja was bombarded
more than twenty times by Iraqi regime's warplanes with chemical and cluster bombs. That Friday
afternoon, the magnitude of Iraqi crimes became evident. In the streets and alleys of Halabja,
corpses piled up over one another. Tens of children, while playing in front of their houses in the
morning, were martyred instantly by cyanide gases. The innocent children did not even have time
to run back home. Some children fell down at the threshold of the door of their houses and never
rose. In a Simorgh Van, the corpses of 20 women and children who had been prepared to leave the
town and the chemical bombardment of the town had deprived them of this opportunity, made any
observer stop and ponder about the corpses of these innocent people were evident.
The doors of most houses were left open and inside of each house, there were some martyred and
wounded people. The enemy had heightened the cruelty and heart-hardness to its peak and took
no pity on its own people. This crime in the chemical bombardment of Halabja has indeed been
unprecedented in the history of the imposed war. This crime in Halabja can never be compared to
the tragedy of the chemical bombardment of Sardasht. In Halabja more than five thousand people
were martyred and over seven thousand more were wounded. Women and children formed 75 percent
of the martyrs and wounded of the bloody Friday of Halabja.
Along with Halabja, Khormal, Dojaileh and their surrounding frequently but the center of the
catastrophe was Halabja. In late April 1987, twenty four villages of Iraq's Kurdistan were
targeted by the chemical bombardment because of the struggles of the Muslim-Kurds people of
this town and their open opposition to the regime ruling in Iraq. These villages were chemically
bombarded twice in less than 48 hours.